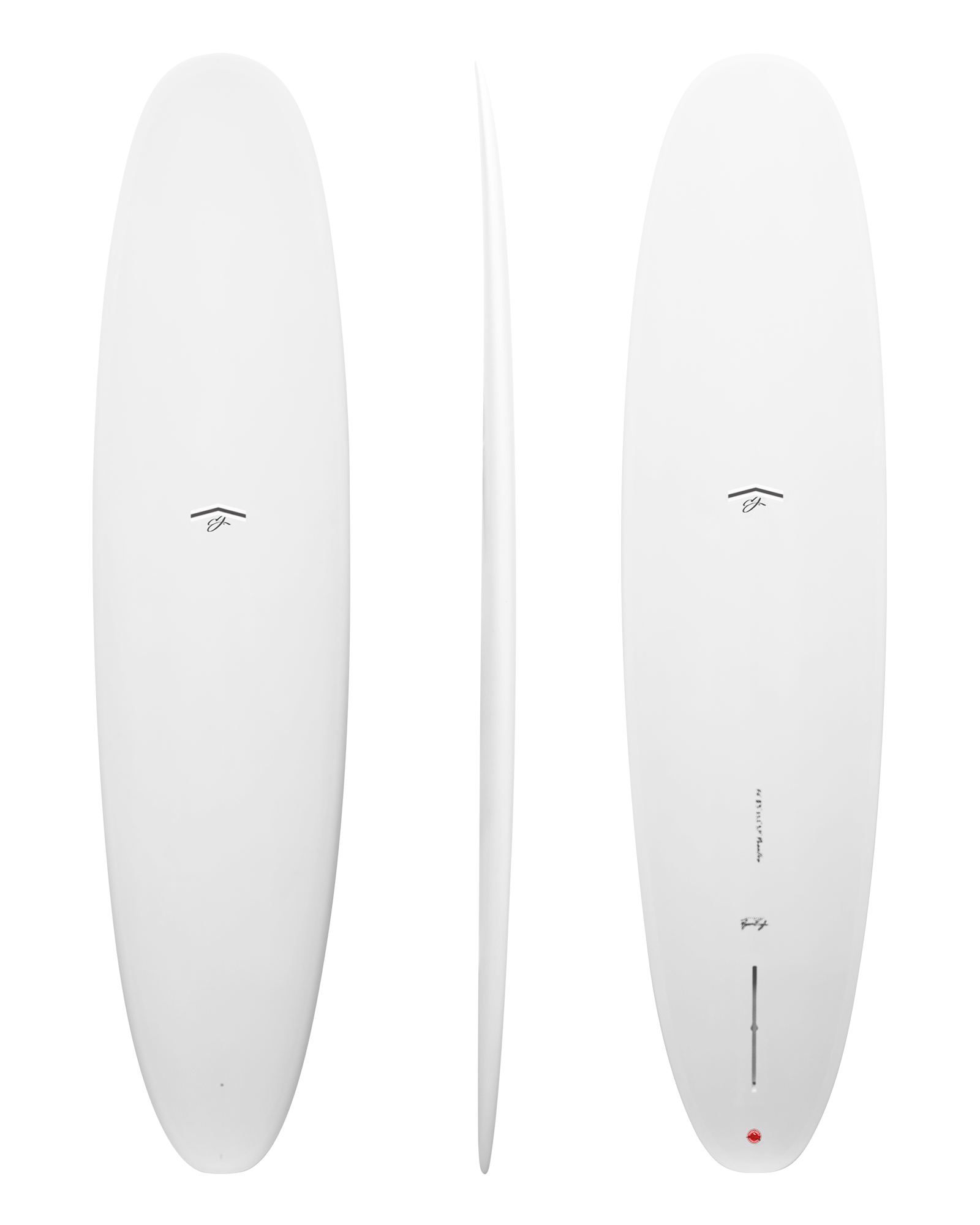 "I ride the the PARALLAX when I want to surf simply and return to feels. The PARALLAX always reminds me what surfing is all about. Feel and performance rolled into one beautiful package. Truly the best board."
CJ NELSON
CJ was slowly recovering from a serious injury tearing his hamstring. The docs were all in agreement that surfing was pretty much out of the question unless done very lightly. CJ unfortunately had a trip planned for Mexico that was non refundable. He wanted to take a board whether he used it or not.
He started digging into the history books on the best "feeling" surfboards you can ride while doing nothing. If he couldn't physically surf good, then what simply feels the best? What's the most ergonomic craft to ride a wave on if he had the opportunity to paddle out? These searches pointed him to displacement hulls. He had previous knowledge of them from hanging out at Malibu in the early 2000s. He had borrowed a couple from his friends like Jimmy Gamboa and Dane Peterson, and even had an under appreciated 8'3" Liddle Super Smoothie in his quiver.
CJ called a meeting with Ryan about designing a couple long hulls for his Mexico trip. CJ and Ryan also met with multiple OG Hull builders to seek advice on stretching out these ergonomic designs. Ryan whipped up the first two with relative ease and CJ was off to Mexico with two beautiful long hulls.
The warm Mexican weather and water had CJ feeling great and after a few days he decided to give the hulls a spin.
The beautiful lines of those boards had CJ's mind in the clouds. What were they going to do? CJ will never forget his first wave, and to this day he says it's the most important wave he's ever ridden. Complete release and control. As he kicked out at the bottom of the point on his very first wave he knew that everything he had done and known in surfing was over. He had fallen into the rabbit hole of magical feels and once you've felt it, there's no turning back. The Parallax changed everything.
The Parallax 8'3" is a speed shape performance midlength. If turning and speed is your thing you'll be hard pressed to find a better feeling midlength anywhere.
Concept designed by: CJ X Ryan Engle
Check out the PARALLAX for longboard dimensions.
| LENGTH | WIDTH | THICKNESS | LITERS |
| --- | --- | --- | --- |
| 8'3" | 23 1/2" | 3 1/4" | 69.2 |
| CONSTRUCTION | FIN SYSTEM |
| --- | --- |
| POLY, EPS | SINGLE |
RECOMMENDED CONDITIONS
WORKS BEST IN WAIST HIGH TO WELL OVER HEAD SURF